2022「Student Life」
Thomas Yeo (Solid Earth Science Group, 2nd year doctoral student)
1. Opening
Hello, my name is Thomas, and I am currently a second-year doctoral student at the University of Tokyo. I am originally from Malaysia, but I have been living in Japan for several years now, and I have come to love the culture, language, and people of this amazing country. While Japan is a fascinating country with many interesting topics to discuss, I would like to share my personal experience as a student at Tokyo University.
2. Campus environment
The University of Tokyo, despite its location in the bustling city, provides a serene and focused environment that is made possible by its state-of-the-art facilities and picturesque scenery throughout the year. One of the most breathtaking scenes on campus is during the autumn season when the ginkgo trees turn a vibrant shade of yellow. Taking a stroll through campus during this time is the perfect way to relax and de-stress amidst the demands of academic life.
Furthermore, the research environment at the University of Tokyo is truly exceptional. Not only are the supervisors knowledgeable and supportive, but the relationships among lab mates are also great. Collaboration and mutual support are at the heart of the research culture here, which fosters a sense of camaraderie and encourages innovation. For anyone who is passionate about research and eager to make a meaningful contribution to their field, the University of Tokyo is a truly inspiring place to be.
As a geologist, travelling for field study is an integral part of my curriculum. In my laboratory, we frequently conduct field survey in Shikoku to investigate rocks related to the paleo-subduction activity of the Pacific Plate. During these extended periods, my lab mates and I work closely together, forging strong bonds that extends beyond the field. The photos below were taken in summer of 2022 on a field excursion at Shikoku with the lab members, including a lucky find of a large single-grain garnet crystal.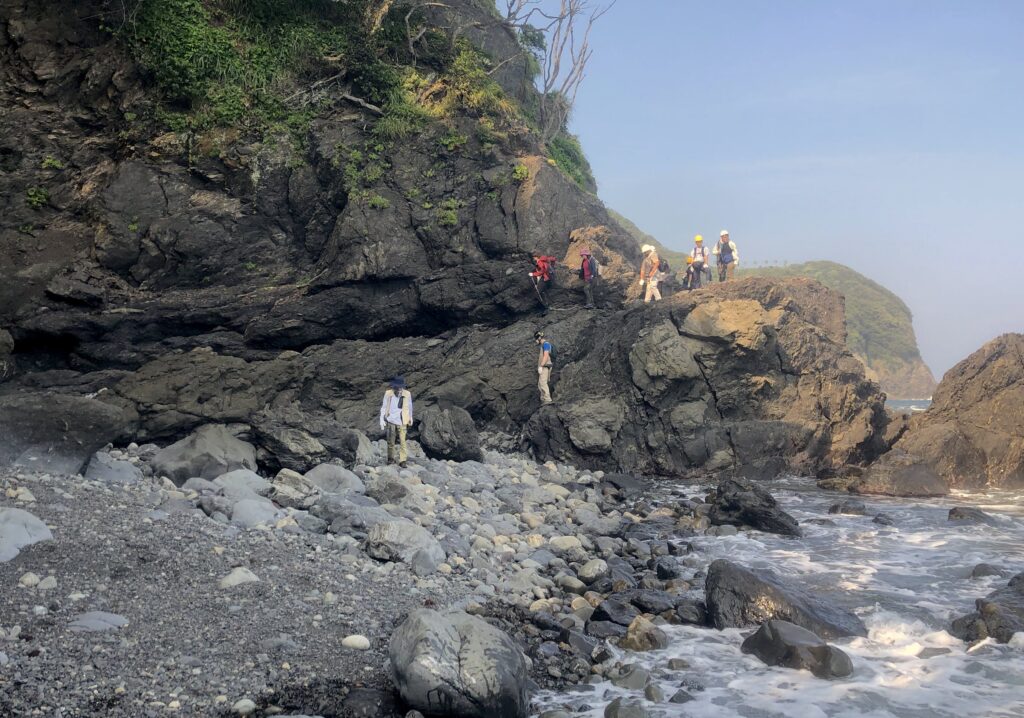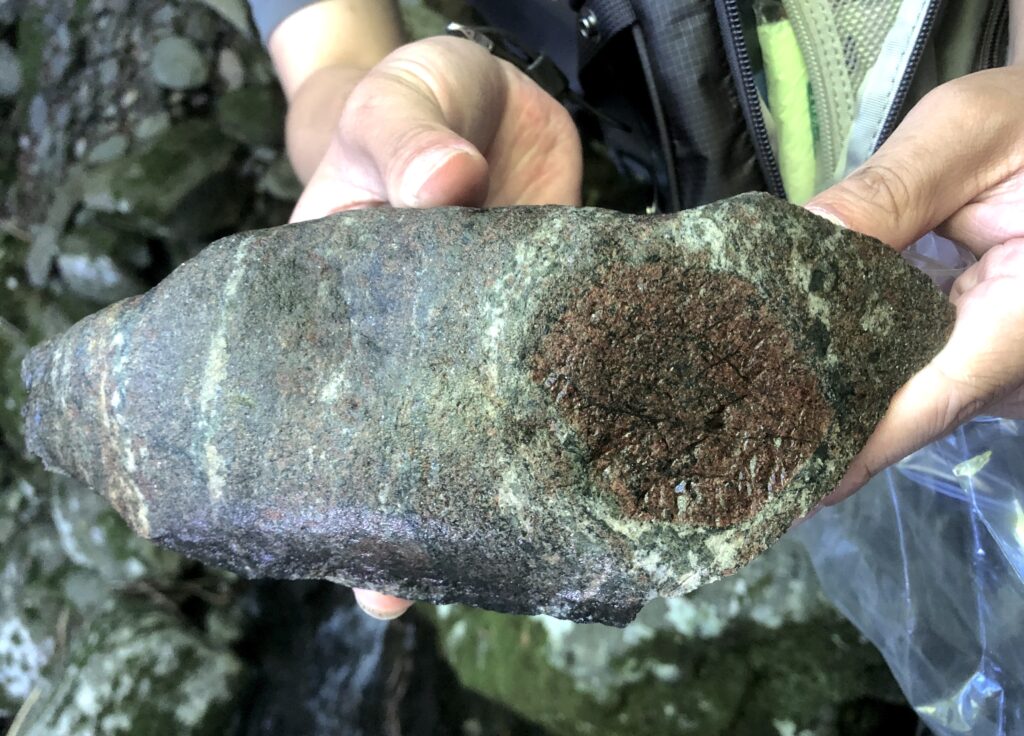 3. My Research
The 2015 Sabah earthquake was a devastating natural disaster that struck my home country and left an indelible impression on me. Witnessing the destruction and chaos caused by the earthquake made me realize the importance of understanding the Earth's processes and how they affect our lives. This experience motivated me to pursue Earth Science as my undergraduate major, and since then, I have been passionately delving into the depths of this subject.
Currently, I am studying fossilized inland faults that were exhumed from a depth of approximately 10 km. These faults are crucial for understanding the underlying mechanisms that lead to earthquakes. By examining the microstructures of these rocks, I aim to unravel the complex deformation processes that occur during faulting and how they ultimately lead to the rupture within the Earth's crust.
To achieve this, I have been combining geological field surveys with microstructural analytical data. By comparing the microstructures of these rocks with those observed in natural fault zones, I hope to bridge the gap between the differences in scale of the observed information and gain a better understanding of the processes that cause earthquakes. Working in collaboration with the Geological Survey of Japan has been an incredible opportunity for me to expand my knowledge and skills. I have had the chance to work with leading researchers in the field and use their state-of-the-art analytical equipment.
4. Life in Japan
Living in Japan can be an incredibly enriching experience. The country is renowned for its diverse and unique culture, and there are ample opportunities to immerse oneself in it. Whether it's visiting traditional temples and shrines, participating in festivals and cultural events, or trying delicious Japanese cuisine, there is always something new to discover.
One of the great things about living in Japan is the variety of activities available throughout the year. In the spring, for example, the country is awash with the pink and white blooms of cherry blossoms, which draw crowds of locals and tourists alike. Walking or picnicking under these beautiful trees is a beloved tradition in Japan, and one that is not to be missed. As the weather warms up, there are also many outdoor activities to enjoy, such as hiking in the mountains, swimming at the beach, exploring the countryside or even visiting the fireworks festival. In the fall, the leaves turn brilliant shades of orange and red, providing a stunning backdrop for hiking and other outdoor activities. When winter arrives, Japan's snowy mountains offer excellent skiing and snowboarding opportunities, and there are also many hot springs (onsen) to warm up in after a day on the slopes.
Whatever your interests, Japan has something to offer. From traditional arts and crafts to pop culture and fashion, there are activities catered to everyone. Moreover, the friendly and welcoming people of Japan make it easy to feel at home and find new connections. All in all, living in Japan is a truly rewarding experience that offers a unique blend of tradition and modernity, natural beauty and urban excitement.
As one of the busiest metropolitan areas in the world, Tokyo attracts a massive influx of foreign tourists on a daily basis. While it's certainly possible to navigate the city with limited Japanese language skills, possessing a basic understanding of the language can make life in Japan significantly more comfortable and enjoyable. From ordering food and buying groceries to asking for directions and communicating with locals, having even a rudimentary grasp of Japanese can go a long way in making your stay in Tokyo and Japan as a whole a more pleasant experience. Don't worry if you're not fluent, many Japanese people are accommodating to foreigners, and there are also numerous resources available for language learners, including online courses and apps. The university also offers a language exchange programme, which pairs students with native Japanese speakers to practice their language skills while also helping their partner learn a foreign language. This programme provides an excellent opportunity to improve your Japanese conversation skills in a relaxed and informal setting, as well as gain insight into Japanese culture from a local perspective. In addition to helping you become more comfortable with the language, this programme can be an incredibly rewarding experience that will enhance your overall study abroad experience.
5. Final remarks
As I am almost approaching the end of my academic journey at the University of Tokyo, I'm filled with a sense of gratitude for the knowledge, skills, and experiences I've gained here. The University of Tokyo offers a world-class education and unparalleled opportunities for personal and intellectual growth. I highly recommend this esteemed institution to anyone seeking to challenge themselves, expand their horizons, and make meaningful connections with people from all over the world.
Thomas Yeo(Solid Earth Science Group, Professor WALLIS's Laboratory, 2nd year doctoral student)
[2023.03Release/2022「Student life」]